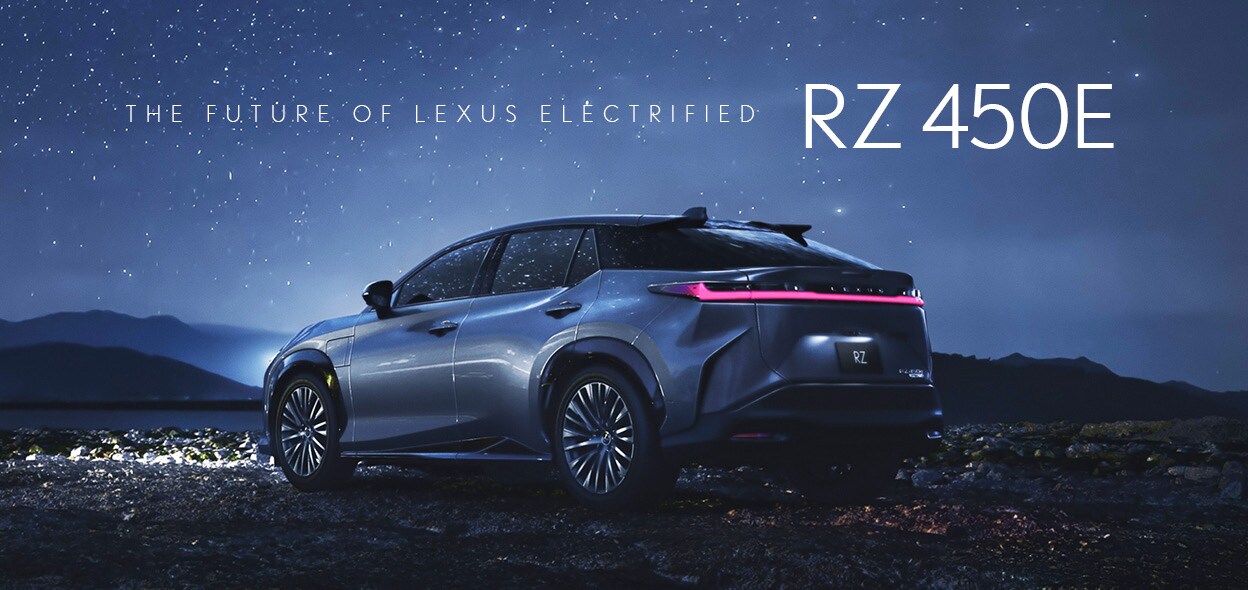 Introducing the first-ever fully electric Lexus, the 2023 RZ 450e. 
The next-generation design is crafted for seamless acceleration and exhilarating driving dynamics. The electrified RZ 450e delivers all the Lexus power with none of the emissions.

Guided by the concept of 'Seamless E-Motion', the arrow-like profile with a flowing roofline minimizes drag and reduces noise. Aero-ventilated wheels designed to keep brakes cool compliments the aerodynamic functionality. The minimalist aesthetic continues inside giving the spacious interior a luxurious feel.
In order to lower the centre of gravity and increase speed, Lexus mounted the battery under the floor of the first dedicated BEV platform. The newly developed high-output electronic axle (e-Axle) fully integrates the motor, transaxle, and inverter to benefit cruise range.
Range*

 308
Hoursepower
71.4 kWh
Battery 

Flexible Charging Options
RZ makes it easy to stay in charge, plug-in at home, work, or most public charging stations. 
 Level 1
120-Volt AC Outlet

Charge with any household 3-prong outlet, perfect for driers with short commutes.


Level 2
240-Volt AC Outlet

The ideal for at home fast charging. Level 2 Home Chargers can be installed by a licensed electrician. 
 Level 3
480-Volt DC Fast Charging

Quickest way to charge under ideal conditions.** Available at select public
charging stations.

Featured Technology
14" Touchscreen Display

 

Available Head-Up Display

 
 Digital Key
 Available Kick Sensor
Reserve your 2023 Lexus RZ 450e by completing the form below
.